Tax day 101: Are some states driving people out with high state taxes?
Seven of eight states with the biggest population outflows have high state taxes.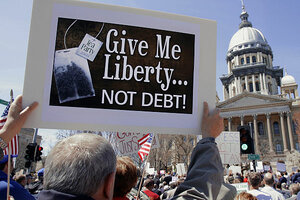 Seth Perlman/AP/File
Among the millions of Americans paying taxes this week more than a few of them probably feel like hiring a moving van.

That's because what state they live in can have a big impact on they total tax bill. Some states, like California and New Jersey, have income taxes with top rates above 10 percent. Others charge no income tax at all.
---