Why Indian IT companies are outsourcing – to US
Two decades after they began running US operations from Bangalore and other cities, Indian IT companies are hiring Americans to do work that was once outsourced. What gives?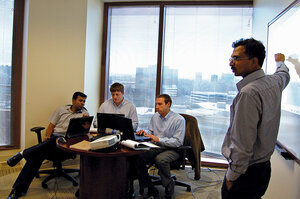 Taylor Barnes
On a top floor of an office building in Atlanta's posh and wooded Buckhead district, workers man a call center for a US healthcare company. Their computers' 'copy/paste' function and Internet browsers are disabled as they answer questions about plan benefits and handle personally sensitive data. Their manager watches from a glassy office.
Nearby, recent Georgia Tech and University of South Carolina graduates train in how to handle information-technology (IT) clients. Attitude is the most important part of working with customers, the trainer says. Hadn't they learned that from Donald Trump's "The Apprentice"?
These scenes are hardly out of the ordinary except for one thing: The managers and trainers are from India. So is the employer, outsourcing giant Wipro, which set up shop here in 2008. Just as Japanese automakers began manufacturing in the United States in the 1980s, Indian outsourcing companies are locating in the US to reap similar benefits. Wipro calls it "reverse outsourcing."
Some of the benefits are, surprisingly, economic.
---
Follow Stories Like This
Get the Monitor stories you care about delivered to your inbox.