American jobs vs. China's currency: Is the yuan too high?
The value of China's currency, the yuan, is one of the most hotly contested issues in US-China relations. The US says a high yuan is costing American jobs. But it also keeps consumer items, like TVs and computers, inexpensive. Will China soon adjust the value of its currency?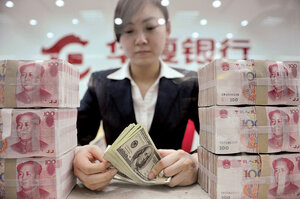 Sheng Li/Reuters
Washington agreed to postpone releasing a report that would have labeled China a currency manipulator. On Monday, Chinese Premier Hu Jintao and President Obama spent little time discussing this source of ongoing tension in US-China relations. Many analysts suspect that China will soon quietly adjust the value of its currency, the yuan.
Here's a short Q&A on this complex issue:
How does the value of China's currency affect the average American?
The value of China's currency, the yuan or renminbi, affects the price of Chinese-made goods sold in the United States by retail stores such as Wal-Mart.
A cheap yuan makes Chinese products cheaper in the US. A stronger yuan would make TVs, computers, and other things made in China more expensive for American consumers.
Goods from China now make up nearly 20 percent of America's imports. In 2009, top imports from China included electrical equipment, apparel, toys and games, and furniture.
But US manufacturers are hurt by a cheap yuan. They say Chinese goods are sold at a sharp "discount" in the US. For example, a Chinese-made chair should sell for $100 in the US if the yuan was fairly valued, but now sells for $75, they say – undercutting American competitors, and thereby costing American jobs.
Is China's yuan really undervalued?
---