Prices at gas pump ticking up ahead of Memorial Day travel
On average, drivers are paying $2.88 a gallon at the gas pump. Gas prices are expected to continue rising because of high oil prices.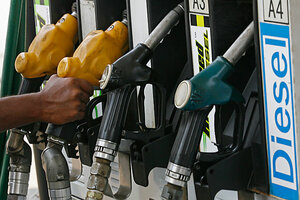 Arko Datta/Reuters
It seems like a rite of spring: The price of oil and gasoline rises in the weeks leading up to the Memorial Day weekend.
This spring appears no different. On Thursday, on the New York Mercantile Exchange, the price of oil rose by $1.95 per barrel, ending the day at $85.17. This is close to the highest level in at least a year.
According to AAA, gas prices, which have been inching up in recent weeks, hit $2.877 a gallon on Thursday. That price is up 82 cents a gallon from a year ago and is 8 cents higher than a month ago.
A variety of factors appeared to be driving the higher prices, energy analysts said. On Wednesday, the Federal Reserve, in its analysis of the economy, said it saw some modest signs of growth. The Fed opted to keep interest rates at the same low level – close to zero percent.
"If you have the economy getting better and low interest rates, that's a bullish scenario for oil," says Phil Flynn, senior market analyst at PFGBest Research in Chicago. "If the economy is better, demand for oil is better."
On Friday, the government will issue a key report on the economy – a preliminary estimate for gross domestic product in the first quarter.
According to Mr. Flynn, oil markets were somewhat unsettled on Thursday after reports surfaced that last week an Iranian jet had buzzed a US aircraft carrier. However, the Pentagon played down the incident.
---