Greek debt crisis: Bailout likely, but will it be enough?
The Greek debt crisis continued to roil European debt markets on Wednesday after a leading rating agency cut the country's debt status to junk. While short term aid to Greece is a near certainty, economists warn that more international cash – and painful political steps in Athens – will be needed.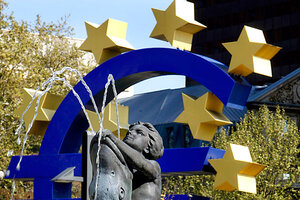 Michael Probst/AP
Azerbaijan, Colombia, Egypt, and... Greece. This week, the Hellenic Republic joined a rather unfortunate club of countries whose bonds are rated "junk" by Standard & Poor's, setting off a flight from Greek debt and emergency meetings across Europe to arrange a bailout.
Neighbors with high levels of debt have been swiftly punished. S&P has also cut the debt ratings for Spain and Portugal, and borrowing costs for both governments have surged this week.
The euro fell to a 12-month low against the dollar Wednesday. The risk premium to hold Spanish debt – the price investors demand over much safer German debt – rose to more than 1 percentage point. Investors are now demanding more than 11 percent return to hold Greek 10-year bonds, compared with a little more than 3 percent for the German 10-year, the European benchmark.
IN PICTURES: The top 10 things Greece can sell to pay off its debt
---