US GDP growth revised down to 1.6 percent as economy cools
US GDP grew at a 1.6 percent pace in the second quarter, less than the original 2.4 percent estimate. Surging imports and the end of homebuyer tax credits contributed to the change.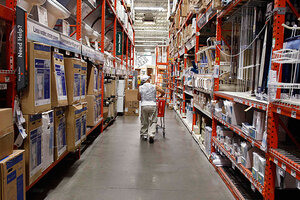 Shannon Stapleton/Reuters
The US economy rose at a 1.6 percent pace in 2010's second quarter, a number that's disappointingly tepid but still keeps hope alive that the US will avoid a dip back into recession this year.
The number represents a sharp decline in the speed of economic recovery compared to the first quarter, when the gross domestic product (GDP) grew at a 3.7 percent pace. The Friday morning report from the Commerce Department also represented a downward revision to its initial estimate for the second quarter (2.4 percent) from a month ago.
US stock indexes opened marginally higher on the news, since the downward revision was not quite as bad as expected.
A bright spot is that consumer spending, which represents the core of the economy, has risen at least modestly for four straight quarters. The pace remains slower than normal in an economic recovery, however.
"Underlying demand in the economy is there, just at a slower pace than many had expected," John Silvia, chief economist at Wells Fargo Securities in Charlotte, N.C., said in a Friday morning note. "This revision [to GDP] suggests slower gains in consumer growth for the second half of this year."
Worries that the United States may fall back into recession have weighed on financial markets in recent weeks.
Americans' disposable personal income has risen in both quarters so far this year, helping to sustain spending growth even as people have boosted their savings, according to the GDP numbers. But the growth pace is tentative. Personal consumption grew at just a 2 percent annual pace in the second quarter.
Some factors that affected GDP in the second quarter have been shifting as the calendar has ticked into the year's second half. The end of special tax credits for home buyers has caused a stall in housing market activity. State governments are moving to cut spending after making a small positive contribution to GDP in the second quarter. Those factors could weigh on domestic consumption.
---