Stimulus and tax cuts now, smaller economy later, CBO report says
Stimulus spending and extending the Bush tax cuts can help a little in the short term, but they would likely hurt America's long-term economic outlook, a CBO report issued Thursday says.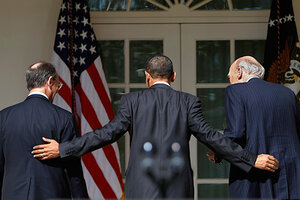 J. Scott Applewhite/AP/file
The Congressional Budget Office released an improved outlook for the federal budget deficit this year, but the report also amounted to a warning to President Obama and Congress about the limits of policies designed to stimulate the economy.

On the positive side, the 2010 budget deficit – though gargantuan – is now forecast at $1.3 trillion, or $27 billion lower than what the CBO predicted in March. The deficit is also expected to be $71 billion lower than the deficit posted in 2009, which set a six-decade record for its scale as a percentage of the US economy.
On the sobering side, the same Thursday report suggested that economic stimulants can be harmful to long-term health.
In their report, Congress's nonpartisan budget accountants estimated that maintaining the Bush tax cuts and avoiding cutbacks in government spending would have some positive effects on the economy in the short run. By pumping more money into the economy now, the gross domestic product (GDP) would be larger next year, and unemployment might be about half a percentage point lower.
---
Follow Stories Like This
Get the Monitor stories you care about delivered to your inbox.