IMF leaves question unresolved: Can world avert harmful 'currency war'?
The International Monetary Fund gathering ended with nations going their own way on exchange rates. One reason: the difficult relationship between the US and China.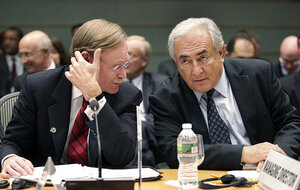 Yuri Gripas/Reuters
World financial leaders agree on the problem. They just don't have a ready solution to the risk that the global economic recovery will be undermined by nationalistic elbowing over exchange rates.
That's the message from a statement issued Saturday by the board of governors of the International Monetary Fund after the IMF's annual meeting in Washington.
"Economic recovery is proceeding, but remains fragile and uneven," the communique said. The group officially rejected "protectionism in all its forms," but also cited "tensions" over exchange-rate movements and imbalanced trade patterns.
The statement called on the IMF to seek answers to this problem.
At the core of the challenge is the difficult relationship between the US and China. The two nations have committed to close and growing economic ties over the past two decades, but also have a long-running disputes over trade and currency policy.
The persistently weak job market this year in America has aggravated the problem. Congress and the Obama administration are pushing China to allow its yuan to float higher, which should give a boost to US exports and make imports from China less attractive to US consumers.
Congressional move to penalize China
The House of Representatives even approved a bill last week that designed to penalize Chinese imports with countervailing duties (designed to offset the alleged currency-rate subsidy).
---