Intel investment a big vote of confidence for US economy
Intel on Monday announced it was spending up to $8 billion to upgrade factories in Oregon and Arizona, hiring thousands of US workers. Does Intel see something it likes in the US manufacturing market?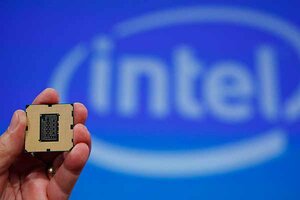 Paul Sakuma/AP/File
In a big vote of confidence for the US economy, computer chipmaker Intel says it will hire 800 to 1,000 new workers in Oregon and Arizona as it spends up to $8 billion upgrading four factories and building one new one. All of that construction will create 6,000 to 8,000 hard hat positions, Intel estimates.
Is this finally a sign the jobs market is starting to improve? Possibly.
The jobs market has been so lackluster for so long economists are loathe to go out on a limb and predict one company taking the plunge will turn things around. But, they say the Intel move is certainly the type of event that may cause corporate America to take notice – and maybe put their cash back into new factories instead of Treasury bills. Some economists go so far as to say the Intel decision may represent the start of a trend – US companies taking advantage of the lower-valued US dollar to make products at home.
"If the Intel plans go through, it may be a signal of burgeoning improvement in business conditions," says Kurt Rankin, an economist at PNC in Pittsburgh. "You don't see many companies step out like this without some kind of internal projections that the economy is improving."
To economist Mark Zandi of Moody's Analytics, the most important part of the Intel announcement is that the company decided to build and upgrade its factories in the US.
---