TSA body scanners: safety upgrade or stimulus boondoggle?
Many Americans will get their first look at the TSA's body scanners at airports around the US during the Thanksgiving holiday.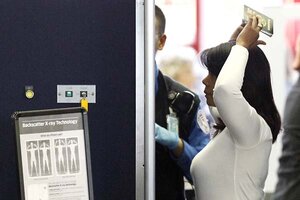 Charles Rex Arbogast / AP
Starting Friday and extending through the next 12 days of the Thanksgiving weekend, some 1 in 10 Americans will take to the skies to travel. As they cram into busy airports, many of them will come face to face with one of the most visible products of the federal government's $787 billion stimulus package:
New airport scanners that effectively look under passengers' clothes.
Lauded by some as a big step forward in detecting concealed weapons and explosives, the Advanced Imaging Technology (AIT) units have come under increasing fire in recent days as too invasive. Critics call them "virtual strip searches" and "Nude-O-Scopes."
On Friday, the Transportation Security Administration (TSA) announced pilots would be exempt from the scanners and the even more invasive alternative: a full pat-down. Also on Friday, two Republican congressmen expected to head the House Transportation Committee and its aviation subcommittee released a letter demanding that the full pat-downs be restricted.
With 385 AIT scanners now working in 68 of America's largest airports as primary, not secondary, screening instruments, the Thanksgiving travel season will give many of America's 24 million airline passengers their first look at the technology and a chance to decide for themselves.
Are the scanners a wise investment of tax dollars that makes air travel safer – or a costly boondoggle that has invaded travelers' privacy?
---