Day-after-Christmas sales: Stars are aligned for a super Sunday
This year, day-after-Christmas sales are expected to be even more festive than usual. Fortuitous timing and Americans' renewed willingness to spend should cap the improved retail season.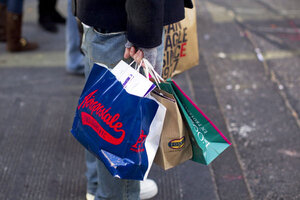 Lucas Jackson/Reuters
The presents haven't been unwrapped yet. No one has pulled out the stocking stuffers hanging by the fireplace. But most people, it seems, are already dreaming of the day-after-Christmas sales, when retailers get serious about reducing prices.
Charles Van Stone in Shepherdstown, W.Va., will be shopping for expensive car waxes. Karen Audet of Ft. Lauderdale, Fla., plans to hit Neiman-Marcus for designer Christmas tree ornaments. And, Garden City, N.Y., resident Tracy Murtagh expects to bring her two nieces into New York to shop for discounted clothes at a department store.
Such shopping would ordinarily just "pad the numbers of a successful holiday season," says Scott Krugman, a spokesman at the National Retail Federation in Washington. But because the day after Christmas falls on a Sunday, Mr. Krugman anticipates even larger crowds than normal.
---