In job search, good references are key
Job seekers often overlook the importance of choosing and cultivating the right references in their job search.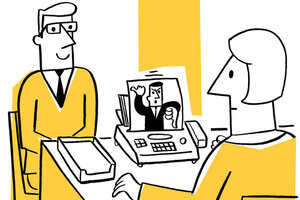 Phil Marden / The Christian Science Monitor
Mellora Hall quit her part-time job in Springfield, Mo., last year in search of a better life and a better job in Las Cruces, N.M. What she got instead was nine months of unemployment.
She applied for hundreds of jobs. Despite a master of fine arts degree, she got few interviews and zero offers. The rejections got her thinking: Was one of her references saying bad things about her?
It's a common worry in a sour labor market. Many of today's job seekers have excellent résumés and present themselves well. But the offers don't come, and they search for reasons why. Finding good references – and making sure that they aren't undermining you – are often overlooked but important steps in a job search.
How important? After speaking to applicants' references, companies typically remove an average 1 in 5 applicants from consideration, according to an Office Team survey last summer. The No. 1 area managers wanted to know about? The applicant's past job duties and experience, the survey of more than 1,000 senior managers found.
"The reference is one of those things to help a potential employee to really differentiate themselves," says Robert Hosking, executive director of Office Team, a staffing service specializing in highly skilled administrative professionals and based in Menlo Park, Calif.
---