Japan nuclear crisis rocks Dow; uncertainty clouds stocks' future
After plunging at the opening Tuesday, the Dow Industrial Average regains some ground. But uncertainty over the Japan nuclear crisis could weigh on the economy, and markets, for some time.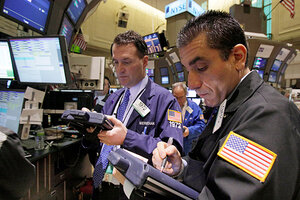 AP
After dropping sharply Tuesday morning, the stock market, by early afternoon, had regained some of its losses.
But, even with the slight improvement, the market remained lower as investors tried to figure out how the world economy would be affected by Japan's earthquake, tsunami, and stricken nuclear power plants.
At 1:30 p.m. the Dow Jones Industrial Average was off 198.90 points, after losing 296 on the open. The selling wave extended beyond stocks, dragging commodities such as oil and gold down as well.
If the stock market were to continue to fall, it could have larger ramifications for the US economy, which had only recently shown signs of a slightly more robust recovery. The buoyant stock market has helped companies raise capital. In addition, the market's rebound over the past two years has helped raise consumer confidence, now at its highest level since the 2008 recession. That improved confidence has resulted in better auto and retail sales as investors' portfolios have regained some luster.
"If the decline is only a few days, it probably won't have a significant impact on confidence," says Lynn Franco, an economist at the Conference Board business research organization in New York. "But, if there are prolonged losses it could have a dampening effect and then it will be up to the job market to pickup the slack. It's too soon to know."
---