Japan gets coal, gas from historic rival Russia
A surge of goodwill from Russia to Japan raises the possibility that a territorial dispute between the two countries left over from World War II could finally be resolved.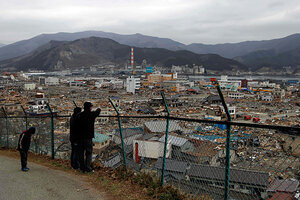 Matt Dunham/AP
Japan's closest geographical neighbor, Russia, is also the only country with which it never officially made peace after World War II. Until the Japan earthquake hit Friday, relations were at their lowest ebb in decades due to an ongoing territorial dispute over the Kuril Islands, which are within sight of Japan's northern tip.
Yet Russians have responded to Japan's disaster with a surge of goodwill and generosity that, among other things, might just make it easier to resolve that dispute once the current crisis has passed.
As the scope of the tragedy became clearer over the weekend, Russian President Dmitry Medvedev sent three plane loads of humanitarian supplies, including an 80-person earthquake rescue team, and pledged to help make up Japan's energy shortfall by boosting supplies from nearby Russia.
"Our moral duty is to help [Japan] in this situation," Mr. Medvedev said Monday as he ordered Deputy Prime Minister Igor Sechin to look into ways of redirecting up to 6,000 megawatts of electrical power from Russia's far east, and arrange delivery of an additional 200,000 tons of liquified natural gas (LNG) plus unspecified amounts of Siberian coal over the next two months.
Japan is already the biggest buyer of LNG from the vast Russian petroleum field on Sakhalin Island – and the facility's entire annual production has already been sold – but Medvedev instructed Mr. Sechin to ignore contractual limits and find the extra amounts that Japan will need to compensate for the effective loss of two major nuclear power stations in the wake of last Friday's devastating earthquake and tsunami.
---