Art market: masterful returns
Art funds let you own a share of a portfolio. Some funds have bested the S&P 500.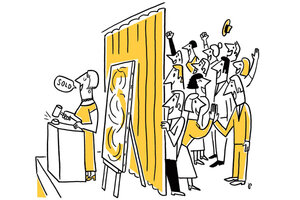 Phil Marden / Illustration
When The Collectors Fund, an art investment fund, debuted in 2007, art collectors Michael and Karen Herman were quick to sign on.
The fund had sterling attractions. It specialized in American art of the 20th and 21st centuries; the chairman's family founded the Kemper Museum of Contemporary Art in Kansas City, Mo. The fund lends investors its art holdings on a rotating basis. And the investment results? A masterpiece.
In its three years, the nearly $20 million fund has returned 28.5 percent annually on sales from its collection. "That return beat art market indexes as well as the stock market," boasts Mr. Herman, who bought a Neil G. Welliver painting from the fund and upped his investment in the fund late last year.
Such financial gains among art collectors and art-fund investors are drawing notice. Amid a volatile stock market, a housing slump, and economic uncertainty around the world, a surge of money is flowing into art in quest of good returns, hedges against inflation, and, yes, the cachet of owning a Matisse or a Calder – or at least a share of one.
Such forces are fueling prices of top-tier art. Picasso's Nude, Green Leaves and Bust, for example, fetched $106.5 million last year, a record auction price for a single piece of artwork. They're also inspiring the creation of new ways for investors to access the mysterious and often illiquid art market. "Art is an asset class, and investors are starting to recognize that," says Enrique Liberman, chairman and president of the new Art Fund Association, based in New York City.
---