How much does US-China trade hurt American workers? Slowly, a clearer picture.
A study published earlier this year suggests that imports in US-China trade have had a significant negative impact not just on factory workers but also on their communities.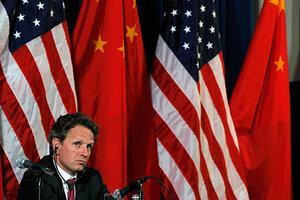 Jason Reed/REUTERS
As top economic officials from the US and China meet in Washington this week, old concerns still linger: Are China's trade policies stealing jobs from American workers? Should the US take a tougher, more retaliatory line in its own trade policies?
It's a debate that raged even in under President Clinton in the 1990s, when Chinese exports to the US were much smaller and the US economy was much healthier.
In two-day bilateral talks this week, Treasury Secretary Tim Geithner pressed China to do more to protect intellectual property rights for global companies like Microsoft, and to allow its currency to move in foreign-exchange markets with greater flexibility. Some lawmakers in the US Congress have proposed a stronger-armed approach, slapping on trade penalties if Beijing fails to act along those lines.
The dialogue – and the threats of pressure from Congress – come as recent research by economists may be bringing the ripple effects of US-China trade into clearer focus. The upshot of the research isn't that trade with China is harming the US economy, but it does suggest that the negative effects on many US workers have been considerable.
Study's findings
---