Hedge fund manager Raj Rajaratnam convicted of insider trading
Hedge fund manager Raj Rajaratnam was recorded getting inside information from hired experts. After the jury heard the wiretapped conversations, they convicted him of all 14 counts of insider trading and conspiracy.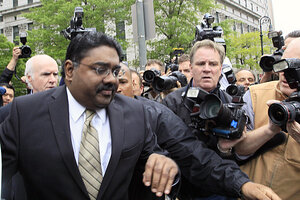 Mary Altaffer / AP
In a case with widespread ramifications for the stock market. a federal jury has found Raj Rajaratnam, a billionaire and hedge fund manager, guilty of all 14 counts of securities fraud and conspiracy in his insider trading case.
Mr. Rajaratnam had maintained that the trades he made for the Galleon Group, which once managed as much as $7 billion, resulted from a "mosaic" of publicly available information. However, the jury, which convicted him of 9 counts of insider trading and 5 counts of conspiracy, listened to FBI wiretaps of Rajaratnam receiving information from corporate insiders, including a director of Goldman Sachs.
The Sri Lankan native is expected to appeal the legality of the wiretaps. He is free on $100 million in bail and must wear an electronic monitoring device around his ankle.
While the Justice Department has won other insider trading convictions, Rajaratnam is one of the wealthiest individuals ever convicted. According to some reports, he spent as much as $25 million on his defense, which at times included up to 45 lawyers.
In addition to proving that money can't buy a not-guilty verdict, the conviction provides a much-needed victory in the Justice Department's efforts to reassure investors that the nation's financial markets are fair.
Inside information: 'Rules ... apply to everyone'
---