What will debt-ceiling deal do to the fragile US economy?
The political deal to raise the debt ceiling averted a fiscal crisis, but a big question remains: Will the cuts in spending help or harm the economic recovery? So far the markets are unimpressed.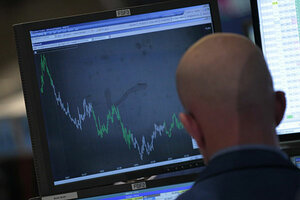 Brendan McDermid/Reuters
A political compromise has averted a fiscal crisis, but now another challenge looms as large as ever: how to get the economy growing and creating jobs.
Some economists warn that the newly passed debt deal, by cutting federal spending, will damage an already fragile recovery from recession. Others see the deal as good news for jobs – that reducing the size of government will help revive the spirits of the private sector.

The answer isn't yet clear, but it could be that the reality will be that the fiscal compromise doesn't exert either a big braking effect or a big forward push.

Regarding the "brakes" thesis, the spending cuts outlined in the plan appear to start fairly small, reducing deficit spending by the federal government by perhaps $25 billion in the coming 2012 fiscal year. That's not even one-fifth of 1 percent of a year's gross domestic product.
---