Retailers gearing up for big pre-Christmas shopping in next two days
Fathers and other pre-Christmas procrastinators are expected to hit the stores in force on Friday, kicking off a calendar-enhanced flurry of holiday shopping that should warm retailers' hearts.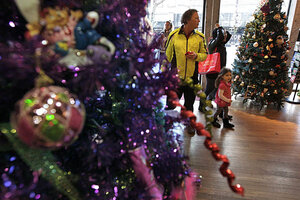 Steven Senne/AP
It's beginning to shape up as a perfect storm – in a good sense – for retailers.
On Friday, many Americans ­– especially procrastinating dads – are taking off from work or leaving early to hit the malls.
Even better, Christmas Eve falls on a Saturday, which means the dads don't have to lie to the boss about why they are not at work.
And, to top it off, retail experts think Monday – an official holiday – will also be a big day as holiday presents get returned and gift cards used.
As a result of all these extra shopping days – combined with improving consumer sentiment – it looks as if the holiday season could sparkle for the nation's retailers.
"I expect Christmas to be stronger than normal," says Bill Martin, the president of ShopperTrak, a Chicago-based company that monitors retail sales. "The calendar helps."
Mr. Martin refers to Friday as "Father's Day" since that's when many men will begin their holiday shopping. "I expect it to be a pretty significant day," he forecasts.
Because of what appears to be better-than-expected buying, some analysts are bumping up their outlook for holiday sales. Chris Christopher, a senior economist at IHS Global Insight in Lexington, Mass. had anticipated holiday sales would rise by 4.2 percent. Now, he thinks it will be closer to 5 percent.
---