10 surprises about tomorrow's job market
In sharp contrast to today's tepid job growth, employment will pick up later this decade and feature some unusual twists – from the rise of sales jobs to the dearth of 'green' ones. Here's a guide to help navigate it.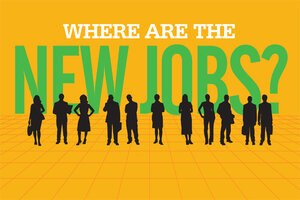 John Kehe staff illustration
The mustachioed patient is surprisingly vibrant – for a dummy. He moves. He complains that he wants something to drink. The nurses confer, raise him to a sitting position, and then consult with a "doctor" by phone.
Hour after hour, groups of four student nurses at Boston's Northeastern University go through a training session at the school's mock emergency room. After four to five years of schooling, they'll venture out into a job market that will be as attentive to them as they are to their smocked "patient." The US economy is expected to add more registered nurses (RNs) from 2010 to 2020 than workers in any other job occupation, according to projections from the Bureau of Labor Statistics (BLS).
"I have a few friends who recently graduated and got jobs right away," says Carly Small, a sophomore nursing student.
Across the Charles River at the Red Cross in Cambridge, Mass., class is also in session. The students are learning basic tasks on their way to becoming home health aides: from the proper way to wash hands to how to move people from lying on their backs to their sides. The job market embraces them enthusiastically, too. Home health aides represent the second-fastest growing occupation, the BLS projects.
"I decided to start this for a better future for my kids," says Evelyn Perez, a single mom with three kids.
---