Unemployment rate drops to 7.7 percent. How real is job-market progress?
Unemployment is at its lowest level since the end of 2008. But the improvement stemmed from mixed reasons: more people hired, but also fewer people looking for work.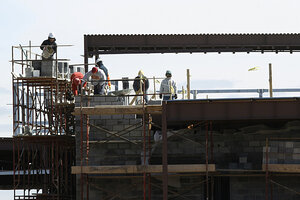 Gary Cameron/Reuters
The US unemployment rate fell to 7.7 percent in February, the lowest it's been since 2008.
The decline, announced by the Labor Department Friday, came alongside other numbers showing solid job growth, with 236,000 people added to employer payrolls for the month.
That's not shabby news, especially given current headlines about high gas prices, the arrival of automatic cutbacks in federal spending, and a hike in payroll taxes that has dented consumer spending power.
But an important caveat is worth highlighting: The drop in joblessness in February – from 7.9 percent in January – came partly for the "wrong" reason. Although part of the improvement came from new hiring, a big factor was a rise in the number of adults not looking for work.
The Labor Department itself didn't play up the jobless-rate shift, saying in its press release that the unemployment rate "has shown little improvement, on net, since September 2012."
Here's how the math worked for this past month:
The Labor Department's survey of households found that 170,000 more people were working. (A separate survey, of employers, found that payrolls expanded by 236,000 positions.) So that helped.
But the survey of households also found that, despite the number of working-age civilians rising by 165,000, the labor force shrank in size instead of growing. Some 130,000 fewer people were working or looking for work in February.
Some of the work-force shrinkage reflects people reaching retirement. But a good bit relates to the still-weak character of the job market.
"As job growth accelerates and people believe there are job opportunities, the labor force should expand," said economist Michelle Meyer at Bank of America Merrill Lynch, in a jobs analysis Friday. She says that could make the unemployment rate "sticky" – not prone to decline quickly.
---