How to kick-start gratitude – on Thanksgiving and year round
A Thanksgiving kick-start for gratitude: Four suggestions.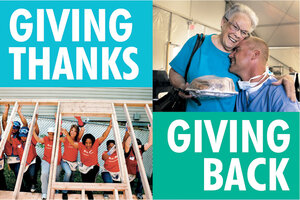 AP/BusinessWire photos
The Monitor's weekly magazine cover project for Nov. 21 – "Gratitude: a healthy recipe for Thanksgiving" – explores how experts view the ethic of gratitude. They see it as equally secular and religious – and it has health benefits.
Sometimes thankfulness comes easily. Other times, especially when you're out of work, or overwhelmed with bad news, it can be a stretch. What happens when you're not "feeling it"?
Some gratitude advocates offer tips for kick-starting thankfulness during tough times:
"You have to focus on what you have, not on what you don't have."
– Joyce Bender is the chief executive officer of Bender Consulting Services in Pittsburgh.
"Pause before you begin a new activity – before taking that first sip of orange juice in the morning, for example – and be grateful for that orange juice…. I like to take walks in nature. It's so natural to feel grateful there…. Another idea [in a world full of bad news] is to read the news with special attention for what the opportunities might be – to send a donation, or to pray, or even to see that something went well in the world."
– Patricia Campbell Carlson is the executive director of A Network for Grateful Living in Ithaca, N.Y.
---