Pennsylvania eyes natural gas tax on biggest US find
Gas tax – or levy – gains momentum in Pennsylvania legislature. But governor opposes natural gas tax.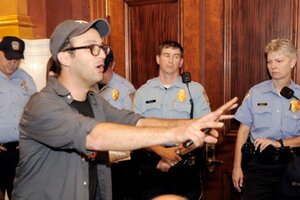 Bradley C. Bower/AP
HARRISBURG, Pa. – Accusing the government of being unable to protect the environment or public health, more than 200 people rallied on Tuesday in the Pennsylvania Capitol for tougher laws — if not an outright ban — on natural gas drilling as pressure builds on state lawmakers to approve a levy on the booming industry.
The rally comes on the heels of an announcement by two more Republican lawmakers in the GOP-controlled Legislature that they're sponsoring bills to impose a tax or fee on Marcellus Shale gas extraction.
More than 10 lawmakers have now introduced or said they plan to introduce a measure imposing a tax or fee as drilling crews fan out across large swaths of northern and western Pennsylvania.
It appears likely that lawmakers will force floor votes on a tax or fee proposal by trying to attach amendments to unrelated bills, as lawmakers rush to finish the state budget this month and depart Harrisburg for the rest of the summer.
Senate President Pro Tempore Joe Scarnati told Gov. Tom Corbett in a closed-door meeting Monday that the governor and the other top Republican lawmakers in the room had better figure out which proposal they're in favor of because of the likelihood that floor debates and votes are unavoidable.
---