Runaway Prius: Toyota's sudden acceleration woes are mounting
(Read article summary)
A runaway Prius in San Diego stole the spotlight Monday from Toyota's spirited defense of its electronic acceleration system.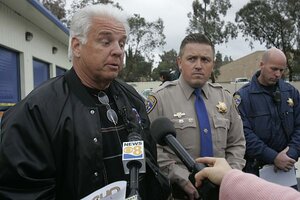 Newscom
Toyota's right about one thing: It doesn't have a ghost problem.
Its sudden-acceleration challenges are real and growing, despite the company's best efforts to contain them.
The latest incident came at the worst possible time for Toyota. Just hours after it put up a spirited defense of its electronic system, which some have blamed for sudden acceleration, James Sikes in San Diego County called 911 to say the accelerator of his Toyota Prius was stuck and that he couldn't slow down.
A California Highway Patrol officer caught up to him 20 minutes later (Mr. Sikes was driving on a rural interstate highway) and clocked him going over 90 miles an hour despite his efforts to brake.
Over his loudspeaker, the officer got him to press the brake to the floor and apply the emergency brake while the car was going uphill. That combination got the car to slow down to 50 m.p.h., police said, at which point the driver turned off the engine and coasted to a stop.
No one was hurt – except Toyota's already battered reputation.
Earlier Monday, the automaker put on an elaborate engineering demonstration, recreating the conditions under which an Illinois university professor had induced sudden acceleration in a Toyota.
Toyota's message: The conditions created by the professor would never have happened in the real world.
The company expressed full confidence in its electronic system. "There isn't a ghost issue out there," said Kristen Tabar, general manager of electronics systems at Toyota's technical center.
---