BP oil spill 2010: How much will it cost?
(Read article summary)
The BP oil spill will cost an estimated $12.5 billion or more. BP announced Monday it will pay for all cleanup costs in the Gulf of Mexico.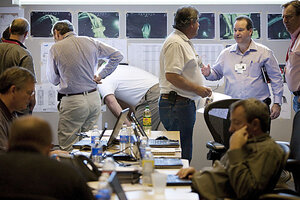 Nick de la Torre/AP
Oil spills are expensive. Nearly two weeks after a massive explosion in an oil rig killed 11 workers and triggered a massive oil spill in the Gulf of Mexico, the cleanup and other associated costs are rapidly mounting and, by one estimate, will total at least $12.5 billion.
That would be nearly 80 percent higher than the cost of the Exxon Valdez spill in Alaska in 1989.
On Monday, the Gulf rig's owner, British Petroleum (BP), announced that it will pay for the cleanup.
IN PICTURES: Louisiana oil spill
"BP takes responsibility for responding to the Deepwater Horizon oil spill. We will clean it up," the company said in a statement, adding that it will pay "all necessary and appropriate clean-up costs."
If the 1989 Exxon Valdez spill is any indication, BP's bill will be big.
---