Jobs picture gloomy. Where are bright spots for hiring?
(Read article summary)
The US created 54,000 jobs in May, the smallest gain in eight months. But in some sectors, hiring is booming.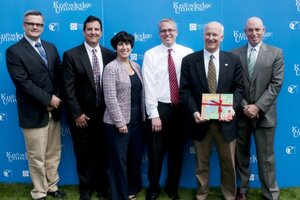 Edis Jurcys/Business Wire/File
America's job machine not only sputtered last month, it sputtered and wheezed on almost all cylinders.
Manufacturing? Down 5,000 jobs. Retail sales? Down 8,500 jobs. Most other sectors of the economy saw a sharp slowdown in growth, which explains why the economy only gained 54,000 jobs in May, its weakest performance since September 2010, according to the Department of Labor's unemployment report released Friday.
So where are the bright spots – and what does it say about the economy's direction? Despite tight purse strings, businesses, consumers, and government are still willing to pay for more health care, private education services, and some technical sectors within business services.
Remarkably, the first two sectors have been almost untouched by the Great Recession. They have added jobs almost monthly since the recession began in December 2007. For example: Every sector of health care is at or near its all-time high.
So is employment in education services (which doesn't count public education). While the nation's public schools have lost 200,000 workers, primarily teachers, in the past two years, private education services have added 143,000 positions to reach a record 3.2 million workers last month. That's 40 percent the size of the workforce in local public schools. A decade ago, it was 34 percent.
---