Rush Limbaugh: If ad boycott expands, can he survive?
(Read article summary)
Rush Limbaugh's inappropriate comments about a law student has caused at least 19 companies to pull their ads from his show. But his on-air survival probably depends on whether his listeners leave.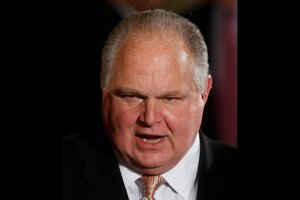 Ron Edmonds/AP/File
[Editor's note: This story has been updated as more companies have pulled their ads.]
The outcry over right-wing radio personality Rush Limbaugh's rude comments on a law student's sex life has cost him at least 19 advertisers. Some have dropped their specific ad buys on the show, at least five others have suspended their ads, even after he apologized twice. Other companies, whose media buys happened to place their ads during Mr. Limbaugh's show, have publicly stated that they are ensuring that they don't appear there again.
How much more erosion of his advertising base can he afford?
Probably a lot more, if he can hold onto his audience and survive the immediate reaction from shareholders of Clear Channel, which produces the show.
"As long as the Limbaugh show maintains its ratings and notoriety, there will be advertisers eager to utilize it," writes Michael Harrison, publisher of industry trade magazine, Talkers, in an e-mail. "I would imagine Clear Channel is already picking up new sponsors to replace the ones that have publicly defected and I wouldn't be surprised if some of those that have cancelled come back after the dust has settled.... The American advertising industry is not necessarily known for its taste or dignity."
---