Israel's ex-spy chief sees opportunity in Syria crisis
In an interview, former Mossad chief Efraim Halevy says a collapse of the Assad regime in Syria could deal a blow to Iran's regional ambitions and nuclear program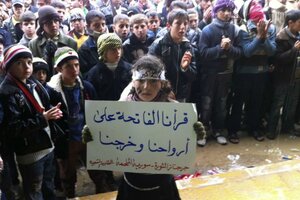 Reuters/Handout
Instability in Syria poses stark security risks for Israel, but it also offers a chance to deliver a stinging blow to Iran's regional ambitions and even its nuclear program, Israel's former national security adviser says.
Israel in recent weeks has been consumed by a debate over the wisdom of launching a military strike against Iranian nuclear facilities. But Efraim Halevy, who also led the Mossad spy agency from 1998 to 2002, believes Israel should also focus on exploiting the opportunity to strike Iran politically and diplomatically through the fall of Syrian President Bashar Assad, a staunch ally of Iran.
Mr. Halevy, now a leading intelligence analyst here, said in an interview that Israel should start to look at Iran and Syria as two sides of the same problem.
Q. You've called Syria the Achilles' heel of Iran. What do you mean?
A. Iran has invested enormous efforts in trying to secure Syria as a major partner. The Alawite [Muslim] minority is very close to the Shiites in Iran. The Syrian Army is mainly based on Alawite command and has units that are purely Alawite. This makes the Iranian investment all the more important.
Syria is also the conduit for Iran's arming of the Hezbollah Shiite forces in Lebanon and Hamas in Gaza. If the regime falls in Syria and the Iranians are expelled, this is going to be a horrendous defeat for Iran. ...
---