Heed Balkan lessons for a fragmenting Syria and revise Kofi Annan plan
Kofi Annan's peace plan is failing to stop violence and ensure a political dialogue in Syria. To avoid a Balkans-like tragedy, an updated plan must include negotiations between Bashar al-Assad's regime and the opposition and deploy armed UN peacekeepers.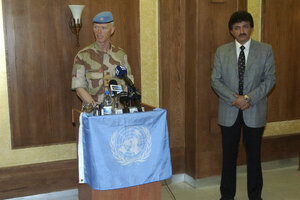 SANA/Reuters
Syria is not on the path to peace through the present form of Kofi Annan's six-point plan, supported by the permanent members of the UN Security Council.
The plan is based on the good will of President Bashar al-Assad to stop the repression of political dissent and punitive military actions against communities where an insurrection has arisen over the last year. The plan also presupposes that once the repression and the killing have stopped, a "dialogue on transition" will begin.
The Syrian authorities have no incentive to change the present pattern of behavior. The Security Council foresaw 30 UN monitors in Syria, expanding the number to 300. The next weeks and months can be spent uselessly arguing whether instead of 300 there should be 3,000, but the pattern of behavior will not change, as the Balkans can teach us.
Throughout the 1990s the international community had far more monitors in the Balkans (even peacekeepers in Bosnia), but that did not stop the butchery. The effort to stop killing through monitoring relies on exposure and shame as a restraining moral imperative. But a regime that has already killed an estimated 10,000 people in the past 14 months has lost moral considerations of that sort, if it had them earlier.
---