George Soros: To survive, Europe must recapture spirit of solidarity
Europe has become divided into two classes – depressed debtors like Greece and controlling creditors like Germany. To reverse this, Europe must recapture its spirit of solidarity. A good place to start is where suffering is greatest, in Greece, among thousands of mistreated migrants.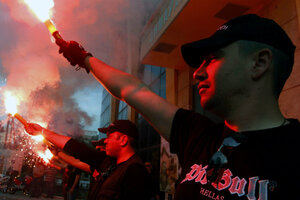 Yannis Behrakis/Reuters/File
The European Union used to be what psychologists call a "fantastic object," a desirable goal that fires people's imagination. I saw it as the embodiment of an open society – an association of nations that gave up part of their sovereignty for the common good and formed a union in which no nation would have a dominant position.
The euro crisis is now threatening to turn the European Union into something fundamentally different. The member countries are divided into two classes – creditors and debtors – with the creditors in charge. Germany, as the largest and most creditworthy country, occupies a dominant position. As a result of current policies, debtor countries pay substantial risk premiums for financing their debt, and this is reflected in their cost of financing in general. This has pushed the debtor countries into depression and put them at a substantial competitive disadvantage that threatens to become permanent.
This is the result not of a deliberate plan but of a series of policy mistakes. Germany did not seek to occupy a dominant position and is reluctant to accept the obligations and liabilities that it entails. I have called this the tragedy of the European Union.
Now, some recent developments give grounds for hope. The authorities are taking steps to correct their mistakes. I have in mind the June EU summit's decision to form a banking union, and the EU Central Bank's plan for unlimited intervention in government bond markets. Financial markets have been reassured that the euro is here to stay. This could be a turning point if it were reinforced by additional positive steps. Unfortunately, it has merely reinforced German resistance to further concessions.
A distinguishing feature of the tragedy I am talking about is that it feeds on hope. Germany is willing to do the minimum but nothing more to hold the euro together. That is how the eurozone becomes permanently divided between creditors and debtors.
---