'Tiger Mother' isn't about parenting. It's about declining American exceptionalism.
The parenting questions Amy Chua's book raises are the questions facing the US. Should America be more hard-working and disciplined like China? Do Americans value free-expression and self-fulfillment too much?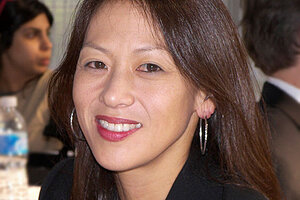 Larry D. Moore/AP
By now, everyone has heard about Yale law professor Amy Chua's new book about Asian parenting, Battle Hymn of the Tiger Mother. The book has been hotly debated in news reports, on-line, and in neighborhoods and PTA meetings across America. But I'd like to suggest that Ms. Chua's book is actually not about parenting at all. It's about something much deeper than that.
As a political analyst, I was struck by two ideas which appear to underlay Chua's analysis of the world: 1) the notion that there is no such thing as "giftedness"; there is merely hard work, and 2) the notion that the "third generation" is the one headed for trouble. These two statements are problematic for Americans, since they have implications for our own position in the international system as well.
In the international system, America has always behaved like a gifted child. Here, the child labeled gifted is defined as uniquely endowed with special abilities. He is intrinsically motivated and equipped with the potential for high level achievement. Similarly, the rhetoric of American exceptionalism explains the "miracle" of America's rise to power with reference to America's superior genetic endowment. America is described as "blessed" with a huge land mass, natural resources, good harbors, and citizens who are uniquely hard-working.
RELATED: Shanghai test scores have everyone asking: How did students do it?
But where Western educators embrace giftedness, Asian educators stress hard work and determination. Analysts who describe the rise of the Asian tiger economies do not stress unique endowments or gifts but rather hard work, rational strategy, and the willingness to forgo short-term gratification to achieve goals.
---