Trayvon Martin: the crime of being black, male, and wearing a hoodie
Whatever happens to neighborhood watch captain George Zimmerman, the dialogue on race must go on. Media perpetually associate criminality with black males. Legislators criminalize black dress. And the criminal justice system disproportionately penalizes black men and boys.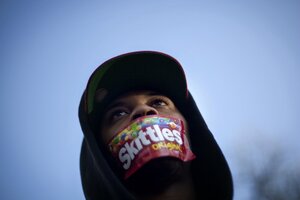 David Goldman/AP
Geraldo Rivera faced public outrage last week when he criticized Trayvon Martin for walking the streets of his father's fiancée's Florida community wearing a hoodie. But Mr. Rivera was right to highlight the racial risks associated with black men's dress.
The clothes many black males wear and how they wear them are often racialized in ways that make black men and boys criminally suspect. So it wasn't Rivera's observation that was wrong-headed. It was his claims about who is responsible that were wildly misguided.
Rivera's observations are about the relationship between race, dress, and perceptions of criminality – a reality worth exposing at every turn. But he places blame on the Martins for not making their son sufficiently aware of the risks that his stereotyped dress made him vulnerable to. Rivera should have directed his blame elsewhere: news media that perpetually associate criminality with black males; legislators who frequently criminalize certain styles of black dress; and a criminal justice system all too willing to disproportionately monitor, harass, arrest, and incarcerate black boys and men because of mere "suspicion."
Studies by public-opinion researchers over the past two decades bear out a familiar pattern. First, local television news primarily reports on violent crime.
Second, television news reporters use images that disproportionately highlight black perpetrators, and often, black victims as well.
---