Iran nuclear talks: To keep global support, US must seize diplomatic opportunities
Talks between Iran and the P5+1 in Istanbul April 14 show that negotiations aimed at addressing Tehran's nuclear ambitions appear to be on track. Diplomatic momentum should quell loose talk about the 'military option.' The top priority now must be to halt Iran's uranium enrichment.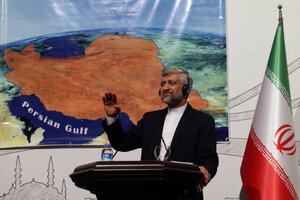 Burhan Ozbilici/AP/file
After a long delay, serious negotiations to resolve concerns about Iran's nuclear ambitions and its growing capacity to enrich uranium appear to be back on track. Though no breakthrough was achieved, the April 14 round of talks with Iran in Istanbul established a good foundation for progress.
At the close of the talks involving senior officials from the United States, Britain, China, France, Germany, and Russia, the European Union foreign policy chief Catherine Ashton said the two sides will hold expert-level talks and then will meet again at the senior political level in Baghdad on May 23. Future political and technical talks, she said, will be guided by the "principle of a step-by-step approach and reciprocity."
Now the task is to reach agreement on specific, concrete proposals that can help prevent a nuclear-armed Iran, beginning with the most urgent proliferation problems. The top priority must be to halt Iran's accumulation of 20 percent-enriched uranium – which is above normal fuel-grade and closer to weapons grade – in exchange for fuel assemblies for its Tehran Research Reactor, which Iran uses to produce medical isotopes for cancer treatment.
---