Iran talks in Baghdad: Western naiveté
As world powers head into nuclear talks with Iran in Baghdad on Wednesday, is Obama so naive as to hang on to a fake fatwa promising no nukes? With enough enriched uranium to eventually make six nuclear bombs, Tehran is simply stalling for time. Recent chronology bears this out.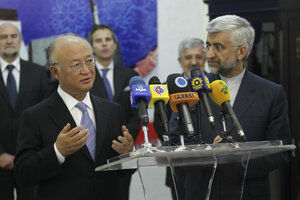 IRNA, Adel Pazzyar/AP
It's hard to overestimate the degree of naiveté on the part of the West as it heads toward another round of nuclear talks with Iran in Baghdad on Wednesday.
Clearly, Iran is stalling for time to develop a nuclear weapon. One example: In talks last month in Istanbul, Tehran seems to have convinced international negotiators of the sincerity and weight of a fatwa, or religious edict, by the Supreme Leader Ayatollah Ali Khamenei that a nuclear bomb is haram – forbidden – in Islam.
Last week, for instance, former French Prime Minister Michel Rocard said the fatwa will help promote confidence about Iran's nuclear activities.
The ayatollah is not beholden to keep his word, but that doesn't seem to be of much concern. At the Istanbul talks, the West agreed for the first time to Iran's demand that it may enrich uranium, with restrictions – despite UN resolutions to the contrary.
The Islamic regime has continuously believed that the more its nuclear program is expanded and progress is achieved, the less likely the West will demand a halt to the program – and if Iranian leaders remain steadfast in the face of all threats, the more likely the West will eventually accept a nuclear Iran.
Recent chronology bears this out.
When President Obama took office in 2009, Iran was under several UN sanctions conditioned on its suspension of all uranium enrichment-related and reprocessing activities. At the time, Iran had 1,200 kilos of low-enriched uranium at its Natanz facility.
---