Supreme Court immigration ruling: A win for Arizona, a call to action for Congress
The Supreme Court handed Arizona a hard fought victory in upholding the most contentious part of its immigration law. All other portions might be found constitutional, it seems, if Congress would state so explicitly in federal law. The decision should serve as a clarion call to Congress.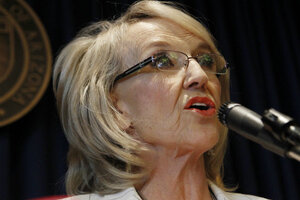 Ross D. Franklin/AP
The Supreme Court Monday handed Arizona a hard-fought victory in upholding the most contentious part of the Arizona immigration law, section 2(b) of SB 1070. That section requires state and local enforcement officials to verify with federal authorities the immigration status of people they lawfully stop when they suspect they are in the country illegally.
This authority, the court held, is both authorized by federal law and a basic component of a state's inherent enforcement function. Despite the determined opposition of the Obama administration and its allies, states can and will be full partners in assisting in enforcing our national immigration laws.
The Federation for American Immigration Reform (FAIR) will be working hard in states all across America to try to build on this and earlier legal successes that help carve out a state role in solving America's immigration crisis.
Yes, the court struck down three of the other key provisions of the Arizona law: penalizing aliens in the country illegally seeking unauthorized employment, allowing police to arrest (without a warrant) individuals suspected of a crime that might lead to deportation, and making it a crime for those in Arizona not to carry immigration papers. But Justice Anthony Kennedy's majority opinion overturned these provisions on narrow legal grounds, arguing that they allowed a state to preempt what Congress has outlined as the role of the federal government to enforce immigration law.
---