A more divisive, political US Supreme Court? Think again.
Public approval of the US Supreme Court is dropping. That trend may be enforced by its decisions on the Arizona immigration law and health-care reform. But the rate of dissent in the court today is no greater than before. The problem lies with the divisive cases the court selects.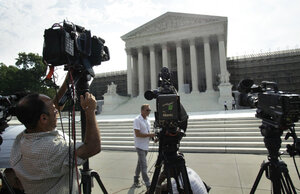 Yuri Gripas/Reuters
In a week when the Supreme Court hands down potentially divisive decisions on the health-care reform law known as Obamacare and the Arizona immigration law (SB1070), it's time to set the record straight about a court perceived as extraordinarily divisive and political.
Twenty-five years ago, two-thirds of Americans approved of the way the Supreme Court was doing its job. Today, according to a recent New York Times-CBS News poll, that number is just 44 percent. Pundits will be quick to react to the poll by declaring that public dissatisfaction with the court is a consequence of the Supreme Court's increasingly partisan and divisive behavior. The Times poll suggests that a majority of the public accepts this explanation as well; 3 out of 4 Americans believe Supreme Court justices are sometimes influenced by their personal and political beliefs.
But are today's justices any more driven by politics than those of the past?
Exhibit #1 in favor of that view, say the pundits, is the modern trend toward the Supreme Court issuing split decisions, with the justices in the minority writing scathing dissents in every case. The problem with this bit of evidence is that no such trend exists. In fact, the rate of disagreement among Supreme Court justices has been remarkably stable for decades.
---