Title IX at 40: Most schools still aren't in compliance
Four decades after Title IX went into place, enormous progress for women and girls has been made. But most schools in America are still not providing men and women with equal opportunities to participate and equal treatment in athletics. There's work to be done.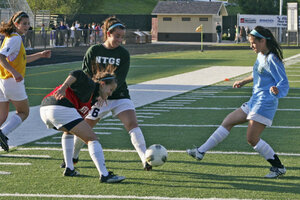 Martha Irvine/AP/File
Forty years ago, on June 23, 1972, Title IX became law. Its mandate was simple: "No person in the United States shall, on the basis of sex, be excluded from participation in, be denied the benefits of, or be subjected to discrimination under any education program or activity receiving Federal financial assistance."
Now, four decades later, enormous progress has been made. We should all celebrate it. But there is also a sad reality that needs to be faced and addressed: Most schools in America are still not in compliance with the law.
To many people, Title IX means gender equity in athletics. But, as the statute's language shows, Title IX bars sex discrimination in all aspects of educational institutions receiving federal funds, not just athletics. That prohibition has made an extraordinary and undeniable difference.
In 1972, 3.5 million women were enrolled as undergraduates, 44 percent of the total. By 2005, that number had increased to 8.5 million, or 57 percent of all undergraduates. Similarly, the percentage of doctoral degrees earned by women went from 16 percent to 49 percent.
Title IX's most visible impact, however, has been in athletics – the one highly-publicized area in education where males and females are offered separate opportunities and treatment by gender.
Title IX does not require schools to sponsor any particular sport (or sports at all). It just requires that, if schools are going to offer sports, they have to do two things. First, they have to offer males and females equal opportunities to participate. Second, they have to provide equal treatment to the males and females who are participating, including financial aid (where offered), facilities, equipment, scheduling, travel, recruiting, coaching, tutors, medical and training services, housing, dining, support services, and publicity.
The problem is that, even now, after 40 years, very few schools are doing this.
When Title IX was enacted, schools dramatically expanded opportunities for girls and women to play sports. They learned it was like the Field of Dreams: If you offer opportunities, they will come. Female participation increased to match the opportunities made available.
---