Roberts ruling on Obamacare rebukes partisanship with moderation
Few doubted the Supreme Court ruling on health care, or Obamacare, would be 5-4. Hardly anyone figured Chief Justice John G. Roberts would swing to uphold the law. His moderation is a measured rebuke to the law's politicization. Bipartisanship is needed on big issues.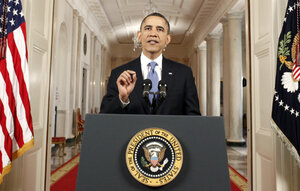 Luke Sharrett/Reuters
Seven years after John G. Roberts was appointed chief justice of the Supreme Court, the conventional wisdom was settled. He was predictably conservative and, to his detractors, activist and hostile to precedent. Few observers doubted the health-care ruling would be 5-4. Hardly anyone figured that Chief Justice Roberts, and not the more centrist Justice Anthony Kennedy, would provide the swing vote.
It is hard to overstate the significance of what just happened.
No matter which way the court ruled on the Affordable Care Act, the inevitable immediate effect would be that of a boot to a beehive. A contentious presidential election is underway. The incumbent's signature legislative accomplishment was on the line. The parties were agitated. Amid the swarm of overheated predictions and pronouncements, however, Roberts's note of moderation is a carefully measured rebuke.
"It is not our job to protect the people from the consequences of their political choices," the chief justice wrote toward the tail end of an introductory civics lesson in the majority's decision to uphold the law.
To the majority of Americans who voted to elect Barack Obama president, that might sound a little derogatory, but that reading misses the point. By recasting himself in the more modest role of justice-as-umpire in what may prove to be the defining decision of his tenure, Roberts threw the ball back across the street to Congress and closed the courthouse doors to anyone looking for a reliable political ally.
---