A taxing decision on health care mandate by the Supreme Court
The Supreme Court ruling on the health care law and its mandate assumes that a 'tax' for not buying insurance is simply an incentive. It isn't much of an incentive if it penalizes those who rely on nonmedical means of healing.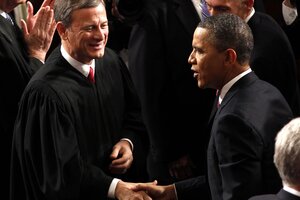 J. Scott Applewhite/AP Photo
The US Supreme Court ruling upholding the Patient Protection and Affordable Care Act ends a long chapter in the nation's legal debate over the "individual mandate." But by relying on a novel proposition to back the law, the court may have opened a new chapter.
The decision relies heavily on the unusual idea that the government can impose a tax on anyone who does not buy health insurance as an "incentive" to buy it.
A tax, in other words, is not really a penalty – even if the health-care law itself uses the word penalty more than 18 times.
Writing for the majority, Chief Justice John Roberts admits that the court had "a duty to construe" the law in a way that Congress did not intend in order "to save" it. The justices wanted to show a "reticence to invalidate" a law approved by elected leaders.
The court was not so reluctant in challenging the law's core premise for the mandate. The ruling found the mandate could not be justified under a constitutional provision that allows Congress to regulate interstate commerce. Congress, the court said, has no right to "regulate" someone simply for not taking action, such as not buying insurance.
This part of the decision at least takes one stigma away from those who choose not to buy health insurance. They won't be scofflaws for simply ignoring the so-called mandate.
---