Congress must reform immigration laws that send top STEM graduates to China
Because of bureaucracy and delays, America is losing its top foreign-born job creators – particularly those in science, technology, engineering, and math (STEM) – to competitors abroad. In the global war for talent, the US has every advantage except one: its immigration laws.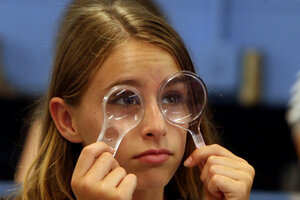 Scott Keeler/The Tampa Bay Times/AP
Jonas Korlach left Cornell with a Ph.D. in biochemistry, a patent on technology that effectively reads the entire human genome, and an idea that spawned a company now employing 285 people and generating more than $30 million in revenue per year. Yet because of American immigration laws, Dr. Jonas would have been kicked out of the United States, along with his invention, the jobs he created, and the revenue his company generates, had a US Congresswoman – Rep. Anna Eshoo (D) of California – not assisted him in 2004.
Thousands of immigrants earn advanced degrees from top US universities every year. They train under our best faculty (many of whom are also immigrants), conduct cutting-edge research, and leave with the skills and knowledge necessary to power our innovation economy. But with a dysfunctional immigration policy, America is now losing these creators of tomorrow's great companies to competitors abroad.
Consider the case of Dr. Neta Zach, who came to New York City as a postdoctoral associate and became an intern to learn business development at Cornell's Center for Technology Enterprise and Commercialization. Dr. Zach was offered several positions with innovative companies eager to use her knowledge and skills, but they all fell through due to visa restrictions. Even receiving a faculty position at another university was not enough to extend her visa, and she had to leave the US. She is now living in Israel, where she works as a scientific director for a nonprofit company that drives the development of treatments for Lou Gherig's disease.
---