In shunning African refugees, Israel ignores Exodus' call not to 'oppress the stranger'
More than 60,000 Africans mostly from Eritrea, Sudan, and South Sudan have come to Israel fleeing harsh dictatorships, oil conflicts, and genocide. Israel must stop the inhumane deportations and unjust detention of these migrants and instead implement a comprehensive refugee policy.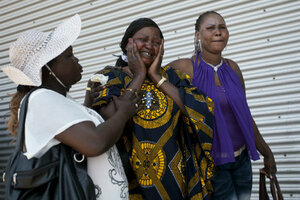 Ariel Schalit/AP
Israel was established as a haven for survivors of genocide. But it is now confronting a problem that puts that historical legacy to the test, and the results so far are dismaying.
Immigration authorities rounded up hundreds of refugees from South Sudan over the past few months and sent them back to their home country, where they could face death due to the ongoing conflict with Sudan, in the north. The last flight of returnees were sent back without any of their belongings, including the mosquito nets and medication kits humanitarian aid organizations had given them before the flight.
One of those still at risk of being deported is a soft-spoken young man named William, who told me how he was abducted by militias and sold into slavery as a child. After he escaped, he lived in a cardboard tent in Cairo before making the risky trek across the Sinai peninsula into what he hoped would be a compassionate refuge in Israel.
"People don't understand us," he said. "They don't know us. I didn't come here for work. I came here for protection."
The 60,000 Africans who have made their way to Israel, mostly coming from Eritrea, Sudan, and South Sudan, are a tiny minority of the entire population of refugees from the region beset by harsh dictatorships, fights over oil, and systematic genocide. But their presence in Israel has created a growing African homeless problem in Tel Aviv and other major cities.
---