Why I'll be avoiding the sequel to the 'fiscal cliff' drama
I invested a great deal of time following the Fiscal Cliff Drama and its main characters, John Boehner and President Obama. But the great fight over taxes and spending cuts ended with a cop-out. There was no satisfying dénouement, and the ticking time-bomb turned out to be fake.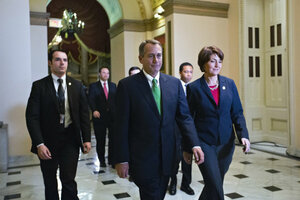 J. Scott Applewhite/AP
The 'fiscal cliff' deal left a lot of people disappointed. Liberals think the rich got off too easy. Conservatives can't find the spending cuts. Economists believe all it does is preserve the status quo. Me? I just feel completely ripped off.
I invested a great deal of time and energy following the Fiscal Cliff Drama. I suspended my disbelief (not to mention my cynicism) about the possibility of a blockbuster bargain. I took the dramatic bait – that this was a crisis to end all crises. It was all there: tension, conflict, history, character.
The ticking clock was a brilliant device. Like an episode of "24" – or any movie where a bomb needs to be diffused – time became a character in the plot. Final. Absolute. Not negotiable. And then it was. If this were an episode of "24", it might have been called "24-ish".
And to think how hopeful I was at the start – that the ticking bomb would force the characters to definitive action. President Obama and John Boehner were two powerful, contrasting characters – one riding a wave of history, the other stubborn and principled in defeat. And yet, they had a shared goal: to save the kingdom. It was almost Shakespearean.
The stage was set. The risks were real. All the major characters said so. There was a cliff. And a runaway train. We were running out of track. Would we fall? Oh, such sweet drama and brilliant metaphor. The Fall: it's at the heart of every story since Eve took the apple and our first literary heroes were cast out on their quest.
---