Americans want a good inauguration show – corporate funding or not
Though this year's celebration will be scaled back from from Barack Obama's record-breaking 2009 presidential inauguration, its corporate funding has helped ensure plenty of glitz and glam. The history of United States presidential inaugurations shows Americans expect nothing less.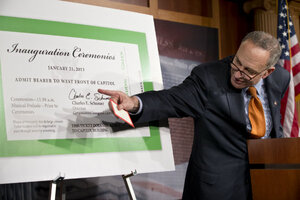 J. Scott Applewhite/AP
Abu Dhabi, United Arab Emirates
On March 4, 1801, Thomas Jefferson walked from a nearby boardinghouse to the Capitol to be inaugurated as the third president of the United States. His two predecessors, George Washington and John Adams, had arrived at their own inaugurations by stagecoach, clad in elegant suits.
But Jefferson went on foot, wearing the clothes "of a plain citizen without any distinctive badge of office," as a Virginia newspaper reported. Jefferson swore his presidential oath, gave a brief speech, and then walked back to have dinner with his fellow boarders.
Fast-forward to this Monday, when President Obama will be inaugurated for his second term. Citing the struggling economy, organizers have scaled the celebration back from his first inauguration, when they raised a record $53 million in private donations. But this year's festivities will still feature plenty of glitz and glam, including performances by Beyoncé and Kelly Clarkson. And it will be funded in part by corporate donations and large individual gifts, which Mr. Obama renounced the last time around. In the wake of the November elections, the Obama camp said it would be hard to raise still more money from "campaign weary" donors.
And most Americans seem ok with that. Sure, Obama's fundraising for next week's inauguration has drawn barbs from Public Citizen and a Republican organization called GOP.com. But I haven't noticed anyone complain about all of the inaugural glamour, even if most of us won't get anywhere near it. The big events are all invitation-only, and only big donors will get in.
Institutions giving $1 million or individuals contributing $250,000 to the inauguration festivities will earn the coveted "Washington" designation, receiving exclusive access to the inauguration's two balls (down from 10 last time) and other events. Next comes the "Adams" group, at $500,000 and $150,000, respectively. After that is – you guessed it – the "Jefferson" level: $250,000 for corporations and $75,000 for individuals. And there are a few more rungs below that.
---