Conflict in Mali shows US needs greater engagement in Africa
While I am pleased at reports of US cooperation with France to stop Islamist extremists Mali and run them out of Timbuktu, I remain concerned about the interrelated, widespread threat of terror in the region. America cannot afford to treat it as compartmentalized country-by-country issue.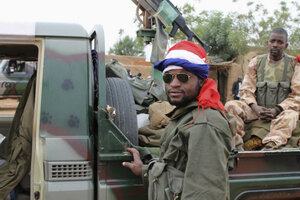 Adama Diarra/Reuters
Many Americans have heard of the city called Timbuktu. Many have probably even used the expression "from here to Timbuktu," as a cliché to explain that something is very, very far away. Until recently, not many Americans would have answered quickly or even correctly when asked where the city is, or what country it is in. But front-page news events over the past weeks and months may have changed Americans' awareness of the famous city of Timbuktu, and the northern African country of Mali.
And it's an awareness they cannot afford to lose. Preventing attacks on our soil and against Americans all over the world demands that we pay attention to developments in Mali, Libya, Algeria, Egypt, Nigeria, Sudan and other key – sometimes volatile – countries in northern Africa. And there are many other nations and regions that could threaten our security.
While I am pleased at reports of US military and intelligence cooperation with France and other countries to aid the efforts to stop these extremists from their path of destruction in Mali, I remain as concerned as I was following a trip I made to northern African in 2005. Combating such a widespread, interrelated threat requires cooperation to proactively address and prevent terror. America cannot afford to address this national security priority as if it were a compartmentalized country-by-country threat.
---