World powers must cut a deal with Iran before it's too late
Having hobbled Iran's economy, the P5+1 believe they are negotiating from a position of power. But this attitude could be dangerously delusional and may backfire. A deal is needed to address the top concerns on both sides.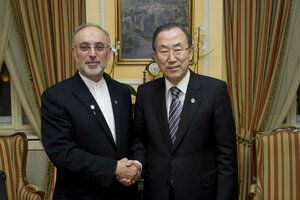 Evan Schneider/UN Photo/Reuters
For the first time in several years, some sparks of hope flew in negotiations between the P5+1 – the five permanent members of the UN Security Council plus Germany – and Iran over its nuclear program. Whether these sparks are quickly extinguished or grow into a self-sustaining flame of ongoing cooperation depends delicately on decisions the world powers make in the coming weeks.
Another round of formal negotiations are scheduled for April. To build trust, a small – but important – deal that addresses just the very top concerns of both sides should be attempted first. Less important factors should be shelved for later discussions.
In the eyes of the West, the most pressing issue about Iran's nuclear program is the enrichment of uranium to 20 percent. Building up this stockpile goes a long way toward having the fuel needed for a nuclear bomb, should Tehran decide to kick off a weaponization effort in the future. This is not to say that this is what Iran is intending to do. And, of course, there are many additional steps needed to make a viable, deliverable nuclear device. But gathering the required fuel is one of the big hurdles in gaining a latent nuclear weapons capability.
Every missed opportunity in striking a deal with Iran allows it to continue enriching more 20 percent uranium. The P5+1 should not miss another opportunity to curb Iran's 20 percent enrichment.
If the P5+1 are really as worried as they claim to be, these nations should do what it takes to get Iran to agree to curb its enrichment. And if it means putting serious sanctions relief on the table – as the Iranians have been asking for – then so be it.
---