In Libya, Islam – and a purple hijab – help spurn domestic violence against women
In newly liberated Libya, our women's rights group tried to address domestic violence by using proven international ways to raise awareness. But people threw away our fliers. Then we started Purple Hijab Day to spread the word that Islam condemns such violence. We're seeing results.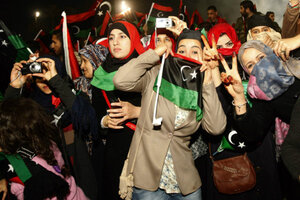 Ismail Zitouny/Reuters/file
Domestic violence against women and girls is not unsolvable. Here in Libya, where young women are finally beginning to speak up about this serious problem, we're learning how Islam – and a purple head scarf, or hijab – can help address it.
Violence against women is not new around the world, including in Libya. But since the country's liberation in October 2011, such violence – both in and outside homes – has been exacerbated by a lack of law and order. As the new government works to improve security, civil society must make sure that Libyans and their families are well aware how a lack of accountability for this violence harms families and communities.
In September 2011, I founded The Voice of Libyan Women, an advocacy group to help women take an active role in the economy, politics, and society. Our organization, like many others, represents the struggles of citizens in securing their rights in a newly democratic nation.
We first tried to address violence against women by proven international models. We needed to raise awareness, and so we handed out eye-catching informational fliers. Yet schools would not open their doors and shopkeepers would not allow us to leave our leaflets. Even the young men and women we targeted would immediately throw away the materials. Our team was at a loss.
But we did not give up. Instead, we chose a new grass-roots awareness campaign that focused on Islam's teachings against violence, including against women. The result was the February 2012 debut of International Purple Hijab Day in Libya. An annual event, it is first and foremost a reminder of Islam's strict stance against domestic violence.
---