In Libya elections, lessons for Arab Spring
The Libya elections were a step forward for a bedraggled Arab Spring. They revive the region's cry for democracy and may set a model in how to accommodate Islam with individual rights.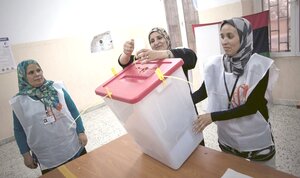 Manu Brabo/AP Photo
The best view of the Arab Spring is the long view. That's because only a few seeds of freedom planted in last year's uprisings have sprouted. Many shoots have wilted under the heat of resistance to democracy from dictators, militaries, and Islamists.
The latest sprout to note – and to praise – is Libya's election July 7. It defied the naysayers of the Arab Spring. Turnout was high – nearly two-thirds of Libyans voted in the country's first free election in half a century. Preelection violence and ballot problems were minimal.
Whatever the final results or the political missteps may come, the vote "reflected the democratic will of the people," as one foreign election watcher said. It was largely free of fear and intimidation.
Those facts alone are a rock for Libya's 6 million people to build on. They add to the regional progress already achieved in Tunisia and Egypt. And they can help keep up the spirits of pro-democracy advocates in Syria, Bahrain, and other parts of the Middle East.
The nine-month, post-Qaddafi transition in Libya has been chaotic enough for people to grasp a need for the kind of unity that can be felt in a nationwide vote for a new legislative assembly. "When someone is drowning, he holds on to any lifeline," one Libyan told The Financial Times.
---