Where Sheryl Sandberg gets it wrong
Facebook chief operating officer, Sheryl Sandberg, offers sound career advice to women with her 'lean in' initiative. But must the answer to gender inequity always be to make women more like men? Sometimes women also need to push back and speak out – for the good of men, too.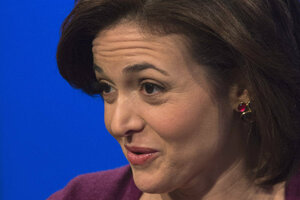 Adrees Latif/Reuters
Sheryl Sandberg's "Lean In: Women, Work, and the Will to Lead" has vaulted to the top of bestseller lists and spurred conversations in cubicles, around dinner tables, and across social media. The Facebook chief operating officer's book, and the foundation that will be funded by book sales, challenge young women to "lean in" to their ambitions instead of "pulling back" by selling themselves short and not achieving their full professional potential.
Ms. Sandberg acknowledges that external barriers hinder women in the workplace, but focuses most of her attention on internal barriers. She urges women to have greater confidence, perform at high levels, and challenge themselves with a singular focus on achievement.
Sandberg offers some sound advice, and young women (and men) determined to climb the workplace ladder should pay attention. But leaning in is not always sensible.
Workplace disparities between women and men persist, and Sandberg identifies several. But many of the external barriers women face require far more than a pep talk or consciousness-raising to overcome. At times, women should indeed lean in and forge full-steam ahead in their workplaces, but at other times they need to push back and speak out.
Some of her solutions hark back to the early years of second-wave feminism and its more problematic assumptions. Must the answer to gender inequity always be to make women more like men? Why can't men and women learn from one another?
For example, Sandberg quotes studies that show women play down their capabilities. When asked to estimate their grade-point averages or other objectively measurable goals, women guess too low and men guess too high. When asked the secret to their success, women are more likely to attribute it to the assistance of others, whereas men tend to claim they did it all on their own.
---