India won't be 'the world's largest democracy' until it upholds human rights
Twenty-five years ago, India suspended part of its Constitution and launched a brutal campaign against Sikh separatists in its Punjab province. Today, India must provide reparations to the victims and vow to uphold human rights, especially in Kashmir and the northeast states.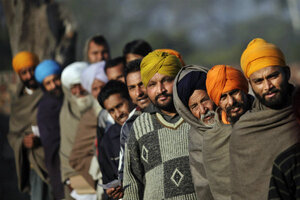 Altaf Qadri/AP
This Saturday, India – a country that President Obama has proudly called "the world's largest democracy" – will face the anniversary of one of its darkest, most undemocratic moments. Twenty-five years ago, on March 30, 1988, India suspended Article 21 of its Constitution, which provides that no person shall be deprived of life or liberty without due process of law. The suspension applied to the northwestern state of Punjab, home to India's Sikh religious minority and the site of a major secessionist movement that occurred from 1984 to 1995.
Suddenly, a police officer could arrest, detain, or even summarily execute a citizen of Punjab without judicial accountability. The promise of due process – a guarantee that so many Indians had fought for during the era of independence only decades earlier – had been jettisoned. The results were disastrous.
Human Rights Watch and Physicians for Human Rights described the government's counterinsurgency campaign in India as "the most extreme example of a policy in which the end appeared to justify any and all means, including torture and murder." While early reports limited the number of deaths to hundreds or the low thousands, our research indicates that nearly 20,000 people were killed, with the peak number of deaths occurring from 1990 to 1993.
---