Gordon Brown: Girls' empowerment movement is a global game-changer
Girls, not adults, are forming a liberation movement – demanding their rights, especially to education. They've organized child-marriage-free zones, demonstrations to support Malala Yousafzai, petitions against child labor, and a growing movement exposing child trafficking.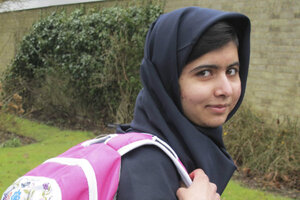 Edelman/Reuters
Almost unnoticed, one of the great civil rights struggles of our times is being fought out in our midst. Across the Indian subcontinent, in Afghanistan, and in Africa, supporters of universal girls' education are being threatened, assaulted, bombed, and murdered.
Within the past two weeks alone, a 41-year-old teacher was gunned down 200 meters from her all-girls school near the Pakistan-Afghan border; two classrooms in an all-girls school in the north of Pakistan were blown up; and at an awards ceremony in the heart of Karachi, a principal was shot to death and another teacher and four pupils were wounded after grenades were hurled into a school that specialized in enrolling girls.
It was perhaps no coincidence that the Karachi teachers had been visited last year by Malala Yousafzai, the 15-year-old who was shot in October simply because she wanted girls to go to school and is now a global symbol for the right of girls to education.
In the last two years, hundreds of schools in Pakistan and Afghanistan have been firebombed and closed down by religious fundamentalists determined to stop the march of girls' education.
But just as in 1960s America, when unspoken resentments against discrimination slowly transformed into a wave of public defiance, Pakistan's silent majority is refusing to stay silent any longer. More and more are saying that neither bombs nor bullets nor arson will now stop them from sending girls to school.
---